RFID Baggage tags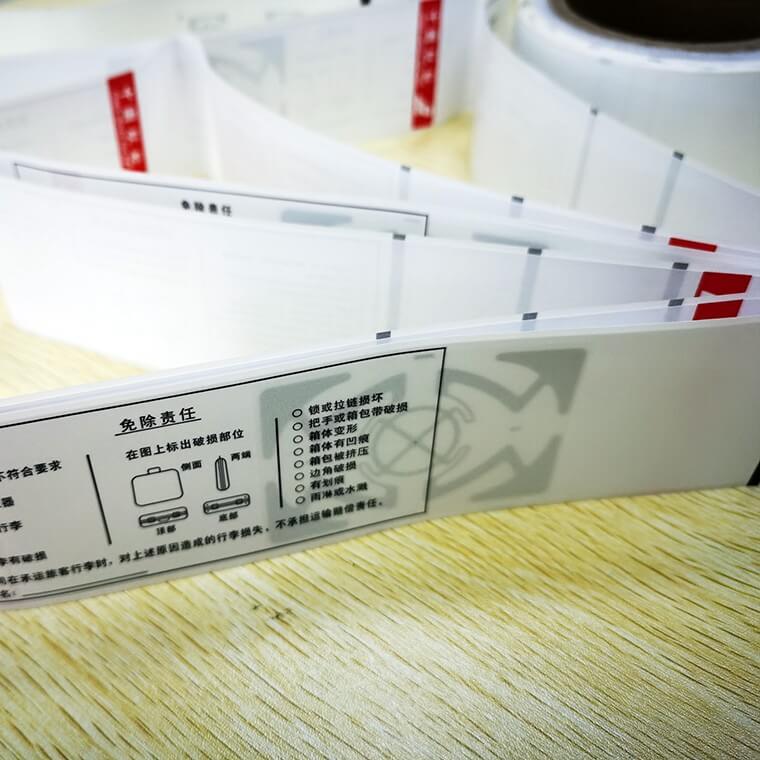 Product details
APPLICATIONS OF RFID UHF BAGGAGE LABEL
Our baggage tags use advanced RFID technology, and UHF chips with RFID technology are integrated into each baggage tag to enable simultaneous scanning. Ultra-high frequency chips provide very high read rates, even at critical locations such as transfer lines, improving baggage handling speed and system efficiency.
BY USING RFID TO TRACK BAGGAGE AT THE FOUR DESIGNATED POINTS OF THE BAGGAGE JOURNEY, PASSENGERS AND AIRLINE/AIRPORT EMPLOYEES CAN EXPECT:
*Decrease in lost baggage & baggage mishandling
*Decrease in costs from baggage mishandling payouts
*On-Time Departure Improvement
* Better passenger experience & service
– Improving visibility and creating transparency between the airline and passenger, all while diminishing the chance of lost
luggage, leads to an improved customer experience.
* Increase in data/information about baggage
– Almost all data pertaining to passenger's bags and their journey will be provided to passengers and airlines/airports. The data collected will provide airlines and airports with insightful information leading to improved performance. And for passengers, customers will see where their baggage is in almost real-time.
The purpose of the RFID UHF Luggage tag/ label is:
UHF Luggage tags, also known as baggage tags, have traditionally been used by bus, train and airline companies to route passenger's luggage which is checked on to final destination.


The passenger stub is typically handed to the passenger or attached to the ticket envelope:
a) To help the passenger in identifying their bag among similar bags at the destination baggage carousel;
b) As proof—still requested at a few airports—that the passenger is not removing someone else's bag from the baggage reclaim hall;
c) As mean for the passenger and carrier to identify and trace a specific bag that has gone astray or not delivered at the destination.
Item:

UHF RFID Airline luggage tracking tag/label

Material:

Paper / PET

Chip

Monza 4

Dimensions:

475*54mm or customized size

Working Temp:

-20℃~+75℃

Storage Temp:

-40℃~+85℃

Antenna:

Impinj H47 or customized




Data Storage:

> 10 years

Feature:

3D Function, Waterproof, Oilproof, UVproof, Strong adhesive etc.

Installation:

Adhesive

Re-write:

100,000 times

Customization:

Printing, encoding, Serial number, Barcode, Designing, etc.

Application:

-Luggage Management
-Supply Chain
-Logistic
-Asset Tracking
-etc.